One-stop Solution for CD/DVD/ISO Authoring
Free Burning Studio is an award-winning one-stop burning application for CD/DVD/ISO authoring. Once you downloaded this professional disc burning suite, it will never be so easy to burn, backup and process all your documents, videos and music without downloading each tool one by one. It is the only burning software which is fully-integrated and tailored to your needs!
Burn Data CD/DVD for Backup
The inbuilt Data CD/DVD Burner tool assists you to easily burn files and folders for saving and backing up onto various CD/DVD discs such as CD-R, CD-RW, DVD-R, DVD+R, DVD-RW and DVD+RW. All types of files like image, text, audio, video, html, PDF, exe, etc. can be burned onto discs for data backup and distribution. In this way, it will be safer in case that the original ones lost and easier to save storage space.
Create Customized Audio CD
Unleash your creativity with Free Burning Studio! It enables you to create customized audio CD from audio files including MP3, WMA, WAV and more formats to suit different moods. These personalized CDs can be used as holiday gifts, Christmas gifts, customer appreciation gifts, business referral gifts, business marketing gifts and business promotional gifts. Burning custom CDs makes it easy to listen to your captivating songs anywhere and anytime you want. And last but not least, backing up your music onto audio CDs will keep it safe just in case disaster strikes.
Copy Music CD Collection to PC
Free Burning Studio includes an Audio CD Ripper which steps in extracting soundtracks directly from audio CD to your PC with high ripping speed. Once you've ripped your CD collection, it's easy to load them to your favorite audio player (e.g. a portable MP3 player such as an Apple iPod, Creative Zen Player or Sony Walkman); enjoy the music of your taste at a party or in your car; or play the songs anytime from your computer without the hassle of having to find the original CD.
Create a Great DVD-Video Gift
A handy DVD movie creation tool - Video DVD Burner, provided by Free Burning Studio, helps create a movie DVD from your movie collection, funny video clips, or vacation/birthday party/wedding videotape to share with your friends and family. It can burn all video formats such as AVI, MPEG, WMV, MP4, MOV, RM, and DivX to DVD-Video, VCD or SVCD with high quality maintained for your portable or home DVD players.
Make ISO/Rip ISO/Burn ISO
Free Burning Studio equipped with ISO tools enables you to create and manipulate ISO image files for all purposes: creating an ISO image file from group of files and folders (with subfolder) on the hard disk and ripping an ISO image from a CD/DVD for permanent backup; burning ISO image file you have downloaded or created to a CD/DVD to use in disc drives.
Create Blu-Ray, Boot Disc & More
Powerful and multi-functional, Free Burning Studio owns the capability of creating various Blu-ray video discs from high quality resources like HD camcorder videos, iPhone MOV videos and common videos; making a bootable disc to reboot your computer's operating system in emergency cases or to run large programs; erasing unwanted information from discs for permanent data removal; view the details of your disc drive.
100% Free, Safe & Easy
100% Freeware! With the user-friendly UI, you can easily find and use anything you want in seconds. The program does not require registration, providing full functions with no built-in limitations. It is guaranteed that no spyware, adware or any similar component is included. It's clean and reliable to install and run.
What benefits can I expect?
New Tech Integrated
Keeping adding things new is our source of energy to get the software fresh and young. Our experts and staff are focusing on the newest technologies and doing their best to make the new stuff available to our users.
Intuitive UI & Features
Simple interface is what makes a good application even better. Our software is designed with ease of use in mind and we try to make it easy even for a kid. The features are also straightforward, without reduction in their ability.
Free & Safe
Our software is free to use, without any form of cost. We don't require your registration, or even email address. It is totally safe to use our products, without disturbing of adware, spyware, bloatware and other malware.
Ongoing Support
When you download and get started using our software, it's just a start. We don't leave you helpless and alone. You can get tons of tutorials on our website and meantime, please feel free to contact us if you have any questions.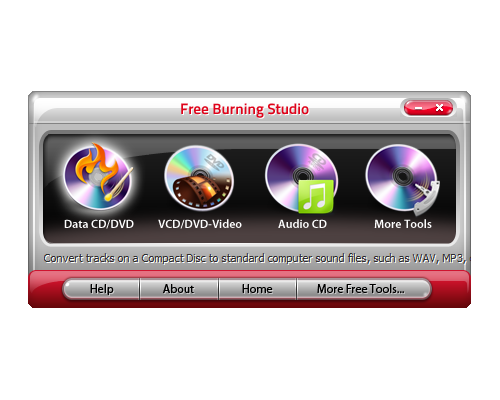 Easy-to-navigate Interface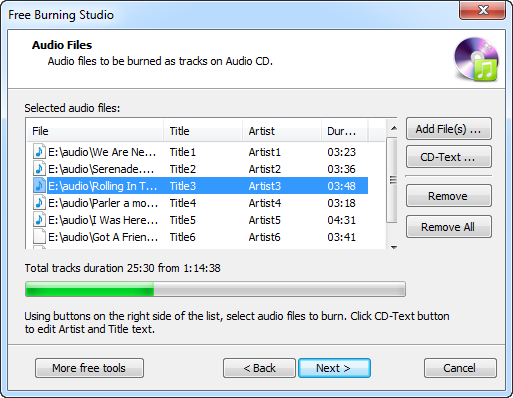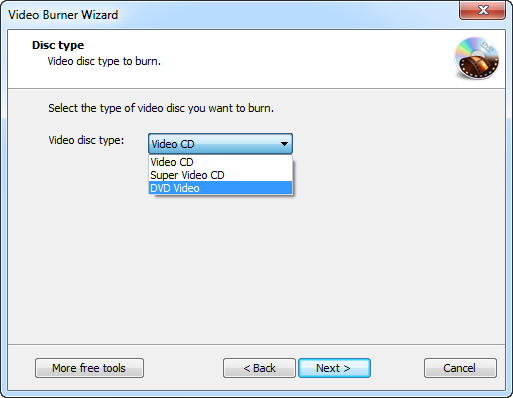 Awards
Super-fast CD/DVD burner application. Large amount of great options for audio CD burning/ripping, video DVD burning & ISO images processing. For users who are looking for an awesome all-in-one CD/DVD ripping & creation and ISO processing tool, Free Burning Studio is a good choice

For software that is free, Free Burning Studio offers all the necessary burning functions found in commercial software - burn data, video, music and everything else to CD/DVD, and ISO processing function is also provided

Actually Free Burning Studio is a combination of many powerful CD/DVD/ISO tools - audio CD burner/ripper, video DVD creator, data CD/DVD burner as well as ISO maker/burner/ripper and more. It is totally all-in-one software solution to accomplish the disc jobs comprehensively and completely

The interface is nice and clean. Options are grouped together quite well that we are able to find the right tool for our desired task by one click and the appropriate application will be launched. It's obvious that the producers of Free Burning Studio wanted their software to be used with ease by many people. Overall, a nice job with the UI
Testimonials
A popular utility that effectively burns my different kind of work files - multimedia, bootable and image files to data CD/DVD and create ISO image from my those work files. Does exactly what it says it will, seamlessly and without effort. I would be very glad if I could also help you to improve it. Congratulations for your work

Till last week I used another CD/DVD burner software. I discovered your product on a website and I decided to try it immediately. I have to tell you that since the first moment I use Free Burning Studio I really felt in love with it. Your software has all the qualities I waited for such a product

I am now a fan and supporter of Free Burning Studio which is a perfect audio ripper tool. All the music I own has been set free from my music CD. I can listen to it on whatever player I choose NOW

Great! Thanks! As I said - I am very happy with your software and use it often. I must say that I cannot think of anything that your software already can do. It is easy, fast and makes a good quality CD/DVD. I have recommended a lot of my friends on the program. Again - thanks for your great work - and keep up with the good work
Download Free Burning Studio
100% Free Disc Burner Software. Safe & Easy.
Download Free Burning Studio! 100% Safe and free. Uninstaller provided to remove it from your PC in case you want it uninstalled.
Download Free Burning Studio
Who Are We?
TechWizard Soft, founded in 2005, is a software development company with expertise and experience in audio, video & image processing applications. We designed innovative and useful tools to enable users of all levels to easily and quickly process their files. All products have been tested for quality assurance. And our multifunctional software products & high quality service have earned high reputation in these years. We will continue to provide more powerful and professional software and best services to end users.
Customer Focus
We understand that every customer has unique needs and desires. We are always developing the software on the basis of the customer's functional specification. It is also possible for us to create something completely new based upon the customer's general ideas. We work closely with every customer to ensure that the software created is the software you need.
Location Map
Location
Lvl 37/ 214 Northbourne Ave, Braddon ACT, 2612
(02) 6115 1169