What would you like to do if you have many delicate and expensive game CDs or personal home movies full of memories on DVDs but be afraid of disaster falls upon those specific CDs/DVDs? A perfect way to back up your games or home DVDs is to save them onto your computer hard drive as anISO file, which is an exact duplicate of a disc, containing all its contents. You can use a program such as Free Burning Studio to accomplish the task.
Step 1. Activate Audio ISO Grabber
Launch Free Burning Studio. Insert a CD/DVD into the disc drive and click "More Tools – ISO Grabber" to run the grabber wizard.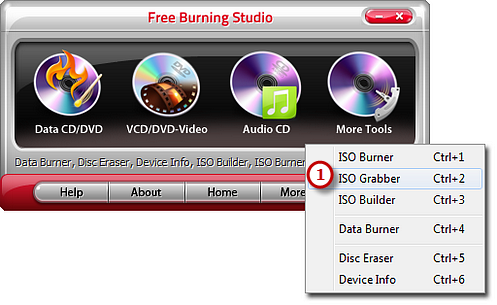 Step 2. Select Ripping Device
The ripper will automatically scan your system and list the available devices. Choose one of the usable ripping drives from the list (the system will select it by default if there is only one). Click "Refresh" to update the device list if you plug in new devices or change the disc in the drive.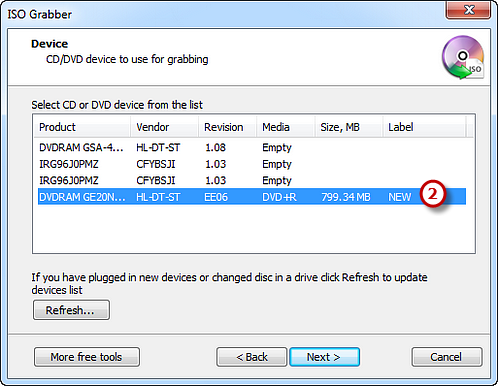 Step 3. Select Output Folder, Check the Tracks & Start Ripping
Click the square button to choose an output folder used for saving ripped ISO image file and check the ISO tracks to be ripped. If you have changed disc in the drive, just click "Refresh" to update tracks list. Click "Next" to start ripping. Please be patient. The ISO ripping will be completely finished after the process bar reaches 100%. The disc will eject after the ISO image has been completely ripped.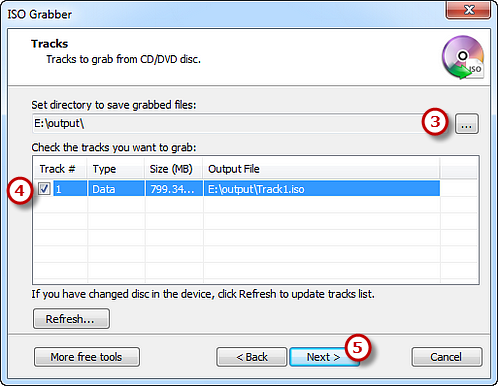 Please follow and like us: