Despite the reports that optical discs are dead as well as other forms of storing data such as the USB thumb drives and the cloud, many people still prefer to use discs for storing, transfer, burning or ripping. Optical discs have come a long way to offer more storage space, for example, the Blu-ray discs that can store at least 25 GB of data, video, or audio files. Disc burning software has evolved over the ages, and they offer more than the burning capability.
The Free Burning Studio is arguably the best burning software in the world today, not only because it is free, but because of its ease of use, and a friendly user interface. Let us look at the features that have moved millions of people to download this burner software.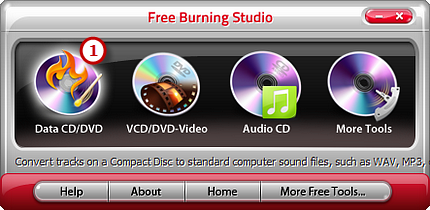 Wide Range of Media Formats
The last thing you want is to download a burning software only to find that you cannot burn files onto another disc. Free Burning Studio has achieved critical, and customer acclaim since the software supports a broad range of media formats. This makes it invaluable whether you are involved in light or heavy weight burning, copying, ripping, et al. The formats are not limited to MP4, MP3, WAV, AVI, WMV, MPEG, MOV, RM, and other popular media formats.
Complete Control on Disc Authorship
Burning files and folders to discs have come a long way, and today, the Free Burning Studio gives you unlimited control on how to customize your discs through its author feature. It gives you the power to create menus, write subtitles in major international languages including French, Chinese, English, German, and Japanese. You can also restrict the number of people who get to view your content, by inputting passwords to the disc.
Create and Manipulate ISO Files
ISO files refer to the entire contents of a disc. Unfortunately, not all devices come with pre-installed tools to allow you to rip, create, and manipulate all ISO files. The Free Burning Studio is one of the few software that has in-built ISO tools for all purposes including ripping ISO images from a DVD/CD for permanent backup and creating an ISO image from a group of files on your hard disk. The software also enables you to burn an ISO image file you have created or downloaded from the internet into a DVD/CD for use with your disc drives on your computer or home DVD/CD player.
Copy Files from Your CD Collection to your PC
Many people in the world that prefer buying movies, and music in a disc format. The Free Burning Studio has a DVD/CD Ripper, which proves useful in the extraction and copying of audio and video files to your computer. The DVD/CD Ripper maintains the integral quality of your files, and it ranks as having one of the highest ripping speeds of all other burner software.
Create a PC Boot Disc
The Free Burning Studio is multi-functional and powerful with the capability of creating a bootable disc for re-booting your PC's operating system. You can also use it to erase all unnecessary information from your hard disks permanently.
In conclusion, the Free Burning Studio has a friendly user interface, making it easy to use by both armatures and professionals. It is free for download on www.disc-maker.net with a guarantee that there is no adware, spyware, malware, or ransomware.
Please follow and like us: